To watch a video or photo, please click on the image.
Find a more detailed description in the image magnification.
Historical remarks: Short story anecdotal events.
BIOGRAPHY SUMMARY OF ROBERT CEARD FOUNDER OF THE BATTALION
The eldest son of Nicolas Céard, the little Robert was born on 17 September 1781 in Versoix in the Montfleury countryside.
Joined the Academy of Geneva, he passed his Doctorate in Paris on April 15, 1806. Back in Geneva, he practiced as a lawyer.
On June 22, 1809, Robert Céard united his destiny to Beatrix-Judith, daughter of Pierre Boin, Councilor of State
In 1811 he became substitute for the imperial prosecutor.
On October 15, 1814, he acquired the permanent right of citizenship of the city of Geneva and became Swiss citizen at the same time of the entry of Geneva into the Confederation.
December 17, 1821 Robert Céard becomes Attorney General.
In 1835, the Council of State appointed him Commander of the Fire Brigade of the City of Geneva.
On May 29, 1840, at the head of his EM, surrounded by three fully constituted companies equipped with arms and uniforms, he received the keys from eight pumps depots which housed all the fire-fighting equipment that Geneva possessed.
THE BATTALION OF THE FIREFIGHTERS OF THE CITY OF GENEVA WAS BORN!
On June 24, 1840, the battalion received the baptism of fire at the Rue du Port.Sergeant James died while he was ordering his pump.
On September 13, 1841, the battalion passed its first inspection before the Municipal Chamber, on the Grand Quai.
In February 1847, publication by Céard of his book "De l'organization des secours contre l'incendie à Genève". Reissued in 1852.
Beginning 1848 Céard presented his resignation for health reasons.
Under his command, between 29 May 1840 and 31 December 1847, the new organization had responded to 433 alerts.
On May 3, 1860, Lieutenant-Colonel Céard passed away, surrounded by the affection of his
fire-fighters.
Buried with military honors, he rests in the cemetery of Plainpalais.
Geneva perpetuates his memory by dedicating one of its streets.
The last gesture of this great man, bequeathed a sum of 500 francs to the First Aid fund.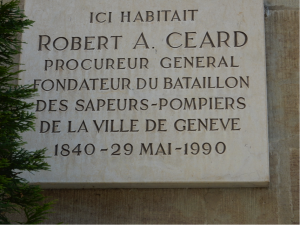 Commemorative plaque at 24 Place du Bourg-de-Four formerly 226 where Céard lived