PROLONGED PROVISIONA CLOSURE
Because of the Covid19 
epidemic,

for protect 
visitors and guides,
the museum remains 
closed,in principle, until
Tuesday 1 September 2020
inclusive.
We wish you, to the extent
possible, a good summer.
Opening hours
Wednesday and Sunday:
10 am to 12 pm and 1.30 pm to 3.30 pm
Closing days
Public holidays, year-end holidays July and August
Prices
Free admission for all
Visit information
Access for people with reduced mobility.
Requests for group visits:
Send your request approx. 3 weeks ahead.
Requests for school visits:
Minimum age: 6 years
VISIT RESQUETS
Contact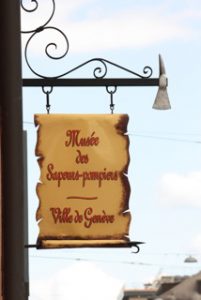 Address:
Fire Brigade Museum
City of Geneva
Rue du Stand 1Bis
1204 Geneva (Switzerland)
Address postal:
Museum Association of Firefighters
SIS of the City of Geneva
Rue du Vieux-Billard 11
PO Box 272
1211 Geneva 8
Public Transport (TPG):
Palladium stop
ParkingCar park:
Hôtel des Finances
Quai du Seujet